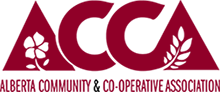 The Alberta Community and Cooperative Association is proud to strengthen Alberta communities by providing leadership development and fostering co-operative values. Servus plays a role in this effort through active membership on their board of directors, support of the annual ACCA annual Gathering of Co-ops, and sponsoring youth across the province to attend the Co-op Leadership Camps that take place at Goldeye Lake Camp each year.
ACCA Camp – Co-operative Youth Leadership Program Application Process
Sponsorship Details:
Servus will sponsor up to 10 teens to attend the camp.
To be eligible for sponsorship applicants must be Servus Credit Union members or children of members.
Sponsorship will include payment of the registration fee, a portion of the participation fee and the bus fee, if transportation is required.
Teens previously sponsored by Servus Credit Union may not be considered—preference will go to first-time applicants.
Application Details:
To be eligible for sponsorship, applicants must:
Be Servus Credit Union members or children of members; children of Servus employees may also apply but the application must be submitted through their home branch
Pay the participant fee
Submit to your local Servus Branch the following:
A letter explaining why you would like to attend the camp
A completed registration form
A cheque payable to ACCA for the participant fee (Servus pays for the registration and bus fees). Cheques from applicants not selected for sponsorship will be destroyed.
Selection Process
Selection of the 10 teens for sponsorship will be based on their letter explaining why they want to attend.
Preference will be given to teens who have not previously attended an ACCA camp.
Once the sponsorship recipients have been selected, Servus will contact all applicants in the final selection pool.
Servus will submit camp registrations to ACCA on behalf of the applicant (submissions will include the application form, the post-dated participant fee cheque from the applicant, and the Servus Credit Union cheques for the remainder of the fees).
Questions about the process can be directed to Tamara Greenwood at Tamara.Greenwood@servus.ca.
Visit the Alberta Community and Cooperative Association website for more information.