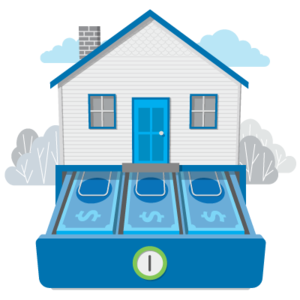 Feel good about your mortgage
Get a mortgage that pays you
You might be wondering how a mortgage can pay you.
First, get up to $5,000* right away with Profit Share® Rewards cash advance. Then, enjoy Rewards cash paid straight into your bank account every year.
All that paired with competitive rates makes a Servus mortgage the smart choice.
Get in touch
Calculate Rewards cash
Get your personal mortgage rate today.
5.74 %
5 Year (High Ratio)¹
Fixed Rate Closed Mortgage
Our rates are already some of the best, but did you know that what you see doesn't have to be what you get?

When you work with one of our mortgage experts, they'll help determine your personal rate which is typically lower than our posted rates and often lower than what you'll find at the banks.
Some conditions apply. Please contact your local branch.
Let's talk
See posted rates
;
Expert advice for any stage of your home journey
;
See what our members have to say
Colin Michael - Medicine Hat
Being a first-time homebuyer can be a very stressful experience. That is why having a professional mortgage specialist to guide you through the process is so important! From her prompt response to my laundry list of questions, to her efficiency in dealing with our time crunch for closing day, she was remarkable.
Jordan James - Fort McMurray
Our Servus mortgage specialist took me in and got me the house of my dreams when all the big banks turned me away. She worked relentlessly to improve my financial situation and thoroughly explained every step of the way. She truly cares about her members and gives open and honest feedback on your deal to ensure you are financially sound and happy in your new home!
Stefan Ford - Google review
It was an amazing experience working with our Servus mortgage specialist from start to finish. They helped us with our investment mortgage that was very complex with a very tight deadline. Their deep understanding and extensive network contributed to us successfully pulling it off. We would gladly recommend them to other investors.
Charity Murray - Fort McMurray
After being denied by a previous broker, our Servus mortgage specialist worked her magic and got us into the home we've always wanted! This lady truly works for you! Our process was smooth and we were very excited to take possession of our new home!
6e0afcfb-c5c7-4d70-8a45-7d3797347291
1
1