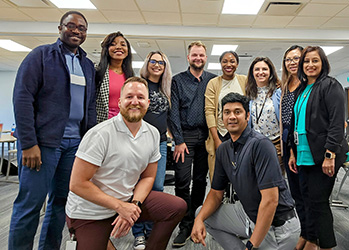 More than an employee
Employees are also members at Servus Credit Union! This means you'll have all the benefits of being a member of the credit union including: profit sharing, voting for the board of directors and all of the services we provide with a few additional perks.
Benefits
Servus offers its employees a wide range of benefits to fit diverse lifestyle needs. We want employees to be physically, mentally and financially healthy.
Here's a few to give you a taste of what you'll benefit from when working at Servus:
---
Financial health
Financial product benefits
Looking for a new car, your first home, or maybe you want to build a nest egg for retirement? We provide industry-leading employee benefits on financial products. So whatever your financial goals are, you can take advantage of reduced service charges, best-in-class rates on savings and discounted rates on credit cards, mortgages and loans.
Group retirement program
Servus offers a Group Retirement Savings Plan and a Registered Pension Plan to help set you up for retirement in style. Payroll contributions you make are matched 100% by Servus and the products available pay at a premium rate so you can reach those retirement goals sooner.
Employee financial advisors
Our Employee Financial Services team dedicates resources to help employees reach their financial goals.
Protection for you and your family
Our disability programs protect you financially from life's unexpected moments. Your recovery time should focus on what matters…getting better.
---
Physical health
Group benefit coverage
Servus' Group benefits plan give you access to care when you need it. You can know your health needs are taken care of through extended health care coverage, travel insurance, dental plans and specialized medical coverage.
Flexible spending account
We know one size doesn't fit all so we provide an annual Flexible Spending Account to supplement the group benefits plan. You can use it to purchase health or personal wellness items.
---
Time to take care
Wellness
Keeping healthy is just as important as receiving care for when you are ill, so we strive to keep our healthy employees, healthy! Servus is proud to offer a wide variety of wellness initiatives designed to educate and motivate our employees. Ergonomics programs, lunch and learns, fitness initiatives and discussions on mental wellness are a few resources in our wellness plan.
Employee and family assistance plan
Supporting employees and their immediate families in times of need is important to us. Our employees and their families have access to a completely confidential Employee and Family Assistance Plan for personal, family or work related challenges.
Vacation and other leaves
Time away from work to relax and to take care of yourself and your family is very important to us. We offer top-notch vacation, parental and other leave entitlements such as personal care days to all of our employees.
---
Let's get social
Networking and learning from each other are important aspects of an organization. Not only do they provide important informal learning opportunities but also allow us to grow as employees and individuals. Servus is proud to sponsor multiple formal and informal social networks including the Servus Young Leaders Network, President's Advisory Council and Servus Women's Network.