Have you ever seen acrobatic aliens? Or how about a balloon artist dubbed "the Michelangelo of balloon art"? Have you ever wanted to join in on Spandy Andy's Dance Party?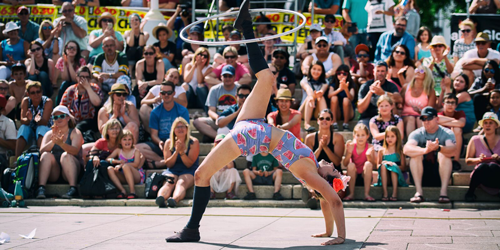 The Edmonton International Street Performers Festival, one of Servus's many non-profit members, is back for its 34th year of fiery, sword-swallowing fun! Performers such as clowns, acrobats, jugglers, musicians, sword-swallowers, fire breathers and more flock to this event to show off their talents and, of course, busk! We chatted with Shelley Switzer, Artistic Producer of Streetfest and recent inductee into Edmonton's Salute of Excellence Hall of Fame, about her 30-year experience with StreetFest.
"We work hard to make sure that there is something for everyone at the festival. No one will feel like there isn't something that appeals to them; all of the acts are hand-picked by me and of the highest quality entertainment."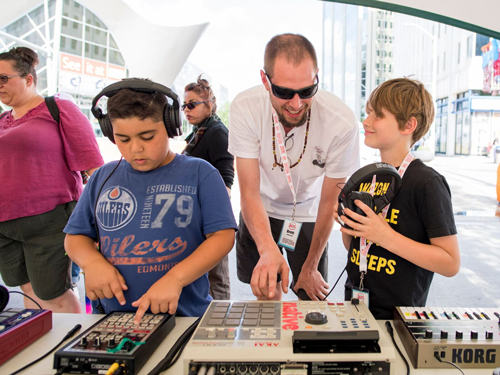 Image credit: EPIC photography
This year, Servus is the equipment sponsor for Kids' World and the Be Your Own Busker areas! Learn to juggle, hula hoop, create music and more! Kids' World is tailored to the 8 and under crowd, where kids can watch entertainment tailor-made for a younger audience. After practicing their art they can join a Fizzlewits Fairy Finding Tour, where kids solve puzzles for clues to find the missing fairy princess!
Some of this year's acts include an audience-activated human fountain; Bruce Airhead (the metamorphosis of a man and a six-foot balloon); the Croquiky brothers (a South Korean brother duo who performs many acts); Teatro Pachucho (a husband and wife duo who performs silent theatre) and so much more!
Image credit: EPIC photography
Be on the lookout for the "Privy People", whose main job is to make sure that your bathroom experience is like no other festival you've ever been to—they greet you, keep the bathrooms smelling nice and have a different theme in each one.
Check out the schedule to plan your visit to StreetFest. Unlike other years, due to construction at Sir Winston Churchill Square, StreetFest will be held at Dr. Wilbert McIntyre Park (8303 104 Street, between Gateway Blvd and Calgary Trail) from July 10–15. Admission is completely free, but tips to performers are encouraged. Don't miss these amazing international acts in our very own city!