The Servus annual general meeting is a time for members to catch up and find out what's happening with the credit union. This year, over 400 members attended the meeting on March 7—in person at the Hyatt Regency Hotel in Calgary or online through a live webcast. It was one of the highest attendance records to date.
Meet your new board of directors
An AGM highlight every year is learning the results of the annual board of directors election. This year, five board members were elected, instead of the usual four, to fill the vacancy left when Penny Reeves passed away in May 2017. The fifth elected candidate will fill the final two years of her term.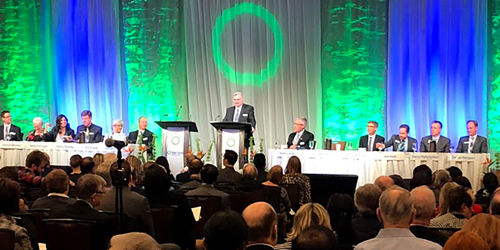 A new bylaw passed at the 2017 meeting increased the length of our directors' terms from three to four years. Directors who are elected to the board in 2018, 2019 and 2020 will serve different terms, depending on the number of votes they receive. This year, the candidate who gets the fourth highest number of votes will serve a three-year term, ending in 2021. Candidates who get the first, second and third highest number of votes will each serve four-year terms that will end in 2022.
The elected candidates included the following:
Four-year—Danielle Ghai, Iris Evans and Darcy Mykytyshyn
Three year—Matthew Protti
Two-year (to cover the rest of Penny Reeves' term)—Doug Hastings
Continuing their terms on the board are Dianne Brown, Doug Bristow, Amy Corrigan, Perry Dooley, Jon Holt, John Lamb and Simon Neigum.
Canada's Best Managed Companies Award
During the AGM, Servus was given the Canada's Best Managed Companies award for the 15th straight year. And it was named a Platinum winner for the ninth time. Canada's Best Managed Companies is the country's leading business awards program. It rewards excellence in Canadian companies with revenues over $15 million that are growing sustainably. This year's award recognized Servus's commitment to helping members with their financial fitness, as well as its growth and progress in innovation.
Want to see for yourself? You can watch the webcast of the full annual general meeting.