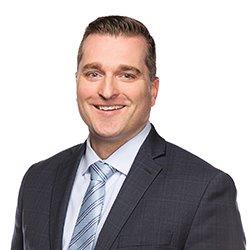 Meet Shawn Eltom, elected in 2019. Shawn has been a credit union member for 20 years. He served on the board of the Safeway Employees Credit Union for five years where he chaired the Nominating Committee and was vice chair of the Audit and Finance Committee.
Shawn has 30 years of grocery retail operational experience with Sobeys and Safeway, including graduation from the Retail Leadership Development Program at Safeway. Shawn managed individual locations before becoming Director of Retail Support Alberta and then District Operator overseeing multiple stores. Most recently Shawn and his wife have become the franchise owners of the Banff IGA.
Shawn lives in Canmore with his wife Marie, daughter Mia and son Bennett. He has been involved with Toastmasters and Big Brothers and Sisters of Calgary. He developed a passion for skiing and hiking during a residence in Banff.