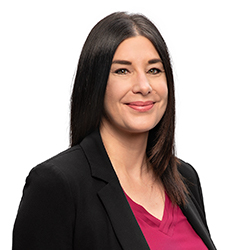 Presenting Amy Corrigan, who has been one of our board members since 2010. Amy served on the board of directors of Community Credit Union in 2008 and was elected as a director for the Red Deer Chamber of Commerce board in 2009. She's also a graduate of the Institute of Corporate Directors/Rotman School of Business Director Education Program.
Amy's business background has also been an asset to our board. She's a working owner and director of The Coverall Shop Ltd.
As a volunteer, Amy has been a United Way Campaign leadership division chair. She also served on the Big Brother Big Sisters Bowl for Kids Committee in 2010 and 2011 and most recently was a member of the board for the Red Deer Catholic Regional Schools Education Foundation, a position she held from 2013-2018.
Amy enjoys spending time with her family, reading, traveling, fitness and the outdoors.