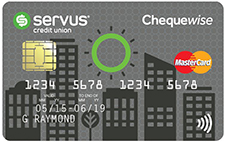 The Chequewise® Mastercard card can be used anywhere Mastercard is accepted including shopping online and accessing cash at an ATM. But, unlike the traditional Mastercard® credit card, the funds are automatically moved from your credit union account to pay off the balance after the transaction is completed.
You can also learn more about our Mastercard credit cards.
Note to members: Servus is combining the current Chequewise® Mastercard® card and Servus Member Card into a new Member Card, making it more convenient to use. The new Servus Member Card will be a Debit Mastercard, which works a lot like a Chequewise card and combines the benefits of Interac and Mastercard.
Funds will come from the member's credit union account.
The card is accepted like a Mastercard when shopping in stores or online outside of Canada, where Mastercard is accepted.
Within Canada, the card works like a debit card when making purchases in stores.
It can be used to shop online in Canada, where Debit Mastercard is accepted.
In May 2018, all Chequewise cardholders will receive a new Servus Member Card to replace their Chequewise card. If you're interested in Chequewise because you need a credit card, please talk to one of our Financial Advisors about Servus Mastercard options that will meet your needs.
Looking to protect your card from unauthorized use? Register your Chequewise with SecureCode.