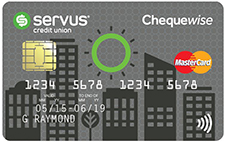 The Chequewise® MasterCard card can be used anywhere MasterCard is accepted including shopping online and accessing cash at an ATM. But, unlike the traditional MasterCard® credit card, the funds are automatically moved from your credit union account to pay off the balance after the transaction is completed.
You can also learn more about our MasterCard credit cards.
Features
No annual fee
All transactions are listed on your Servus account statement
Minimum $1,000 credit line on your credit union account
Access to the world's largest ATM network with your Personal Identification Number (PIN)
The 90-day Purchase Protection insurance covers most retail items of personal property (including gifts) against direct physical loss resulting from theft and damage
An extended warranty that doubles the manufacturer's warranty up to two extra years – including most items purchased abroad, provided there is a manufacturer's warranty valid in Canada
Accidental Death Insurance ($1,000)
Common Carrier Travel Accident Insurance ($100,000 value)
Baggage delay coverage up to $300 for expenses when baggage is delayed or misdirected
Emergency cards and emergency cash with one phone call
Lost and stolen card assistance 24 hours a day, 7 days a week
Looking to protect your card from unauthorized use? Register your Chequewise with SecureCode.