The day-to-day operations of Servus Credit Union are overseen by our Executive Leadership Team.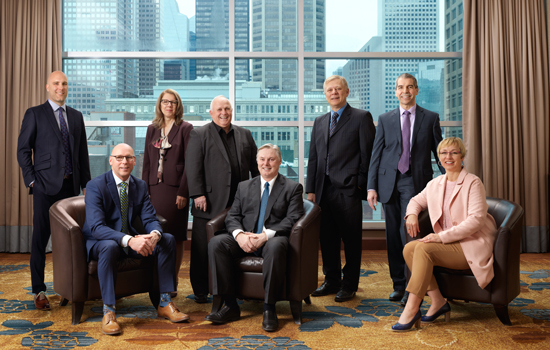 Members of the Executive Leadership Team:
Garth Warner, MBA
President & Chief Executive Officer
Garth has been a member of the Servus Credit Union family for 35 years, starting as a personal banker and advancing through roles of increasing responsibility. In his previous role as Chief Operating Officer, Garth led Servus' retail operations division through periods of rapid growth and expansion. This experience served him well when he was appointed President & Chief Executive Officer in 2009, shortly after Servus became Alberta's first and only province-wide credit union. Under Garth's leadership Servus has continued to grow and evolve into a stronger credit union for its members and employees. Garth earned his Master of Business Administration in Financial Services in 2003 and was inducted into the Credit Union Executive Society Hall of Fame in 2015.
Yves Auger
Chief Information Officer
Yves joined Servus Credit Union in 1999 after spending his first three years in the organization as a consultant leading complex information technology projects such as the implementation of a new banking system. Yves put his 12 years of consulting experience for large government and private organizations to work as Vice President Information Technology, a position he held until 2004 when he was promoted to Chief Information Officer. He is fluently bilingual and has a degree in information management systems. Yves is providing significant leadership to cooperative information technology projects in the Canadian credit union system.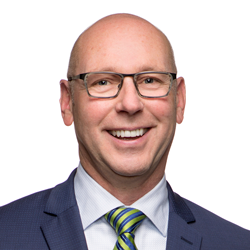 Dan Bruinooge, CPHR, CCE
Chief People & Corporate Services Officer
Dan brings more than 30 years of senior human resources and corporate services experience to his role as Chief People & Corporate Services Officer with Servus Credit Union. He is no stranger to cooperative organizations having worked with Federated Cooperatives Limited and the Cooperative Retailing System, one of North America's largest consumer cooperatives. He has also held senior management positions with the City of St. Albert and private industry. Dan is a Certified Chief Executive and a Chartered Professional in Human Resources. He has a Masters Certificate in Enterprise Risk Management and Business Performance and a BA with majors in Business Administration and Accounting. He serves on the Board of Directors of Credit Union Central of Alberta and is a member of the Governance and Human Resources Committee. He is also a member of the Conference Board of Canada's HR Executives West Council. Dan is a sports and outdoor enthusiast.
Ian Glassford, MBA
Chief Financial Officer
Ian Glassford was appointed to Alberta Central's board of director in 2009. Mr. Glassford is the Chief Financial Officer of Servus Credit Union. In this capacity he is responsible for the Treasury, Accounting and Financial Analysis functions of the credit union as well as participating as a member of the Executive Leadership Team in helping to establish and execute the overall strategy for the company.
Over the course of his 20 year career with Servus, Mr. Glassford has been responsible for the management of the Marketing, Human Resources, Centralized Services, Accounting, Treasury, Financial Analysis, Wealth Management and Strategy functions in the credit union. Prior to joining the credit union Mr. Glassford worked as a Foreign Exchange and Money Market trader for Royal Trust.
Mr. Glassford also served as a member of the board of directors for Credential Financial Inc., a Canadian investment dealer, from 2003 to 2007 where he was a member of the Audit and Finance Committee as well as the Risk Management Committee.
Mr. Glassford's education includes a Bachelor of Commerce degree from the University of Alberta, Master of Business Administration from the University of Western Ontario, Chartered Professional Accountant, Institute of Corporate Directors, Partners Directors and Officers from the Investment Dealers Association of Canada, Canadian Investment Finance Course, and Canadian Securities Course.
Darcy Peelar
Chief Credit, Compliance and Operational Support Officer
Darcy has 40 years of experience in the financial industry and has held numerous positions within the Alberta and Canadian credit union systems, including 22 years as Chief Executive Officer of Vermilion Credit Union. He was appointed Chief Risk Officer at Servus Credit Union in 2008 and held that position until he retired in 2014. Finding retirement wasn't for him, he returned in 2015 to a similar role. Darcy has a Masters Certificate in Enterprise Risk Management and Business Performance from the Schulich School of Business, York University, as well as his ICD.D from the Institute of Corporate Directors. He was a member of the Board of Directors of Credit Union Central of Alberta until 2014. He has been extensively involved in minor and semi-professional hockey for many years as a coach, official and organizer, in addition to other volunteer commitments.
Gail Stepanik-Keber, MA
Chief Brand, Digital Banking & Corporate Social Responsibility Officer
Gail began her Servus career in 1998 as Director of Marketing. Her professional experience includes six years as general manager of a marketing communications company in Malaysia. She has a Bachelor of Commerce from University of Alberta, completed her Masters in Leadership from Royal Roads University in 2007 with a thesis in corporate environmentalism, and received her Designation from the Institute of Corporate Directors in 2011. Gail currently serves on the Board of the Edmonton Airports. Other governance involvement includes a six-year term on the Board of Governors of NorQuest College and three years on the Credit Union Central of Alberta Board, as well as being one of the founding Board members of the Livia Stoyke Foundation and the River City Shakespeare Festival.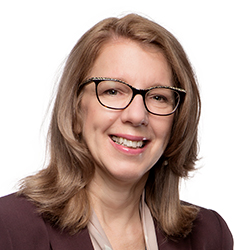 Caroline Ziober
Chief Operating Officer
Caroline has 40 years of experience as a financial services professional. She has earned positions of progressively greater responsibility since first joining Servus Credit Union as a teller, including branch manager, senior internal auditor, district manager and vice president. As Senior Vice President Business Transformation, Caroline guided the harmonization of our banking system so members can enjoy consistent, reliable and upgraded services including mobile banking and INTERAC e-Transfers.
Caroline puts members' needs at the forefront of her work. She has made powerful and lasting impacts in many areas of the credit union including retail banking, wealth management and internal and banking operations. She completed the Queen's Executive Program in 2009 and the Queen's Leadership Program in 2010.
Taras Nohas, MBA, ICD.D
Vice President Strategy & Governance
Taras joined the management team of Servus in 2007 after leading strategic planning for Alberta Health & Wellness and Alberta Economic Development. He joined Executive Leadership Team in 2009 as VP Strategy & Governance.
Taras served on the Servus Board of Directors from 2003 to 2007 and was a member of the Alberta Central Board from 2011 to 2013.
Taras earned his MBA from the University of Alberta, majoring in finance & business planning, his Business & Commerce degree in marketing, and received his ICD.D designation from the Institute of Corporate Directors in 2010. More recently, Taras has completed his Master's Certificate in Risk Management and Business Performance at York University in January 2015.
Taras was born and raised in Edmonton.