Servus Credit Union's Board of Directors consists of 12 members from around the province, elected by the membership.
Your 2018 Servus Credit Union Board of Directors: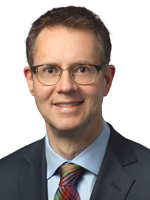 Doug Bristow
We're pleased to welcome Doug Bristow, who joined our board in March 2016. Doug has been a member of Servus Credit Union for 22 years. He brings 15 years of experience working with financial institutions, where he has served in senior roles, including chief of internal audit, assistant vice president of finance and vice president and controller.
Doug is currently a partner at the David Aplin Group, a national recruitment firm headquartered in Edmonton. His focus is providing senior level accounting resources for contract/temporary assignments. He has a bachelor of commerce (with distinction) from the University of Alberta and is a chartered accountant.
Doug and his wife, Lise, have two active boys, Luke and Jack. In his off time, Doug has been involved with Snow Valley Racing and the Juventus Cycling Club.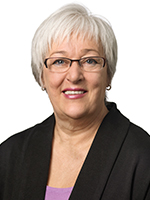 Dianne Brown
We'd like you to meet Dianne Brown, who has been a member of our board since March 2014. Her experience working with credit unions and co-operatives dates back to 1982, and we're grateful that she's sharing it with us.
Dianne is also a director and chair on the Board of North Central Co-op and has served there for 22 years. She is an Associate of the Credit Union Institute of Canada and has completed her Accreditation by the Credit Union institute of Canada and Dalhousie University
Dianne has studied marketing, finance and business management. Dianne is a public speaker and most recently she spoke at the Alberta Food Secure Conference in Edmonton, sharing the cooperative values and our unique business model with future community leaders.
Dianne has received the Integrity award through Rotary and in 2015 was recognized as Volunteer of the Year by the Chamber of Commerce, City of Spruce Grove. She has volunteered with the Edmonton Fire Fighters Memorial Society, Auggie's Café, and has served as the Campaign Director for the Christmas Bureau of Edmonton and continues her support as an Ambassador.
Dianne lives in Spruce Grove where she loves to spend time with family and friends.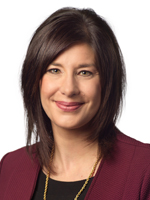 Amy Corrigan (Vice Chair)
Presenting Amy Corrigan, who has been one of our board members since 2010. Amy served on the board of directors of Community Credit Union in 2008 and was elected as a director for the Red Deer Chamber of Commerce board in 2009. She's currently a member of the board for the Red Deer Catholic Regional Schools Education Foundation, a position she's held since 2013. She's also a graduate of the Institute of Corporate Directors/Rotman School of Business Director Education Program. We're glad she has chosen to contribute her knowledge of board work to Servus.
Amy's business background has also been an asset to our board. She's a working owner and director of The Coverall Shop and Parkland Coverall Cleaning, a collection of family businesses.
As a volunteer, Amy has been the United Way Campaign leadership division chair. She also served on the Big Brother Big Sisters Bowl for Kids Committee in 2010 and 2011.
Along with spending time with her husband, Tyler, and their two children, Amy enjoys reading and camping.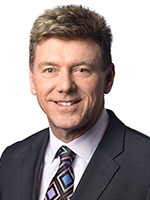 Perry Dooley
Meet Perry Dooley, who joined our board in 2009. Perry has over 25 years of professional experience in Financial Services, Board governance and business ownership. He brings with him 21 years of experience working for financial institutions where he has served as Regional Sales Manager, District Manager and General Manager. He has extensive Board of Directors experience in governance, CEO compensation, audit and finance. In addition to Servus Credit Union, he has served as Director for Credit Union Central of Alberta, Calgary Opera Association and Learning Disabilities Association of Alberta.
Perry has a Bachelor of Management degree from University of Lethbridge, is a graduate of Fellowship of the Institute of Canadian Bankers and has achieved his Institute of Corporate Directors (ICD.D) Designation. He has past experience as a business instructor at Medicine Hat College, teaching Introduction to Marketing, Marketing Research and Business Marketing.
Perry is currently the successful owner of three successful businesses in Southern Alberta. He actively supports his community through various fundraising and sponsorship events and recently served as a Community Council member for Servus Credit Union.
Perry and his wife, Donna, have two children, Alexandra and Nicholas.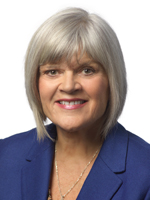 Iris Evans
Get to know Iris Evans, who became part of our board in March 2015. Having been a member of the Alberta legislative assembly for Sherwood Park for 15 years, she contributes much governance experience. During those years, Iris was the minister of six departments, including Municipal Affairs, Children's Services, Health and Wellness, Employment, Industry and Immigration, Finance and Enterprise and finally International and Intergovernmental Relations.
Before being elected to the legislature, she served as a school board trustee, municipal councilor and the reeve of Strathcona County. She has also been active as a member of the boards of college and community associations and groups. She currently sits as a volunteer on the board of the Royal Alexandra Hospital Foundation.
As a speaker and management consultant, Iris has used her experience to benefit others through her company You First Inc.
Iris is the proud mother of three sons—Kevin, Trent and Darren—and the grandmother of five grandchildren, who are the light of her life.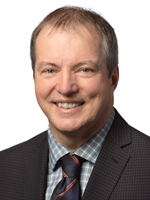 Doug Hastings
We'd like to introduce Doug Hastings, who joined our board in 2008. Doug was Vice Chair from March 2008 to September 2012 and then Chair until March 2016. He also sat on the board of Common Wealth Credit Union from 1997 to 2008. Doug is a graduate of the Credit Union Director Achievement Program and also has completed the Rotman School of Management's Institute of Corporate Directors course. Doug also brings management and negotiation skills to the board from his work as a senior land agent with Husky Energy.
A journeyman mechanic with a mixed farming background, he ran a successful small business before starting his career with Husky in 2000. He retired from Husky in 2017 and now lives in Red Deer. He is kept busy keeping track of his two kids who are both graduated from secondary schooling and working on careers. Doug enjoys the outdoors and giving back to his community.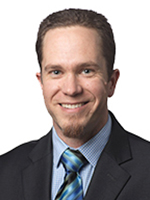 Jonathon Holt
Meet Jon, a Director first elected in 2008, who brings his knowledge of developing IT governance, policy and strategic plans for large and private organizations to both Servus and Credit Union Central of Alberta as one of Servus' appointed Directors. Jon is also a "serial entrepreneur" who has successfully sold two technology-based businesses and is now building a company turning small business' information into experiences that delight employees and customers. Jon has a bachelor of arts (with distinction) from the University of Alberta, an Enterprise Architect accreditation from the Open Group, and a certificate course in Future Commerce (FinTech) from MIT. He has been involved with Toastmasters, Junior Achievement, the United Way's Corporate Challenge and the Multiple Sclerosis Society of Canada's MS Bike Tour. He's also a long course triathlete with 3 Ironman Canada finishes.
Jon lives in Okotoks with his wife and two children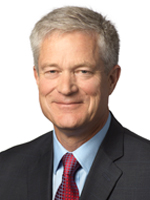 John Lamb (Chair)
Introducing John Lamb, who was elected to our board in March 2013. John has been a long-time supporter of credit unions and co-operatives. From 1986 to 2007, he was a director on three and the chair of two of the boards of Servus's legacy credit unions (Firefighters Credit Union, Emergency Services Credit Union and Common Wealth Credit Union). He also served several terms on the Credit Union Central of Alberta Board of Directors and the Alberta Community and Co-operative Association. We're delighted to have him behind the scenes helping to govern our credit union again.
John is proud of the contributions he has made to help grow an organization that truly cares about the needs of its member-owners. He's passionate about credit union values and about three main focus areas: continuously improving member benefits and service; building a strong, viable and financially stable organization; and supporting Servus's dedicated staff.
After proudly serving his community for over 34 years with the City of Edmonton Fire Department, John retired in 2014 as Deputy Fire Chief. John lives in Edmonton with his family.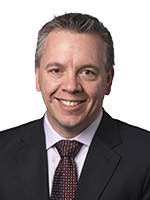 Darcy Mykytyshyn
Get to know Darcy Mykytyshyn, who became part of our board in 2012. Darcy has more than 20 years' experience working with credit unions.
Darcy began his credit union career as a member of Cornerstone Credit Union's board of directors. He served as Vice President, Governance and Strategy of Community Credit Union, member of the Credit Union Central of Alberta board and supported credit union directors in Western Canada during his time at both Credit Unions Central of Alberta and Saskatchewan.
Darcy has a Bachelor of Commerce from the University of Saskatchewan, and is a graduate (and was the instructor) of the Credit Union Director Achievement program. He earned a designation from the Institute of Corporate Directors and has completed the Carver Academy on Policy Governance. Darcy completed professional programs at Wharton and Harvard. In 2006, he was named a distinguished young credit union leader by the World Council of Credit Unions.
Today, he sits on the Red Deer Chamber of Commerce board and Proform Management Inc. and is the Dean of the Donald School of Business at Red Deer College. He and his wife, Loretta, and their sons, Samuel and Nathaniel, live in Red Deer where he is active in the community.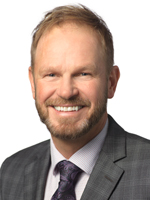 Simon Neigum
Meet Simon Neigum, who joined our board after a one-year absence in 2014. He brings more than 20 years of experience from serving on the board of Community Credit Union and the Medicine Hat and District Chamber of Commerce board, among others. He is also a graduate of the Credit Union Director Achievement program and holds a professional director designation (ICD.D) from the Rotman School of Management. Simon believes in supporting a people-first, member-driven organization, and we're happy to be the organization where he's focusing his energy.
In his professional life, Simon was the co-owner of ProComm Solutions Inc., a Southern Alberta communications, technology and security business. An active volunteer, he also gives his time to various charitable organizations, including the Canadian Cancer Society. Simon now runs an RV and boat storage facility.
Simon lives in Medicine Hat with his two daughters.