Servus Credit Union is committed to helping our members protect themselves from fraud and identity theft. By learning about the exposure risks, you can change your habits to reduce the risks, and know what steps to take if you are a victim.
Awareness is security, so familiarize yourself with the valuable tips and information included within Credit Union Central of Canada's Fraud Awareness Booklet.
There are steps you can take to help keep your money safe by protecting your debit cards and Personal Identification Number (PIN).
Fraud Prevention Infographic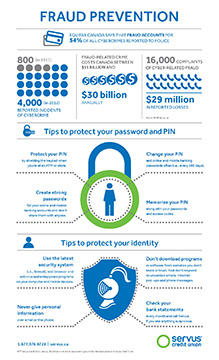 Click image to enlarge
Awareness can help you protect yourself
Read about common fraud and scam tactics