Imagine this: you're close to realizing your dream of building a community gem in Edmonton's river valley. You have shovels in the ground on a three-story building: a suite of offices, a bakery, a bistro and the first hotel rooms in the area in over 100 years.
"I lived in Rossdale but there were zero amenities," Jay Downton said of his project, collectively the River Valley Company. "I had a chip on my shoulder to develop something in the river valley."
With the help of a construction mortgage from Servus Credit Union on what he would call Umphreville Block, Jay was well on his way to realizing a vibrant addition to the river valley.
By now, we all know how this goes: then there was a pandemic.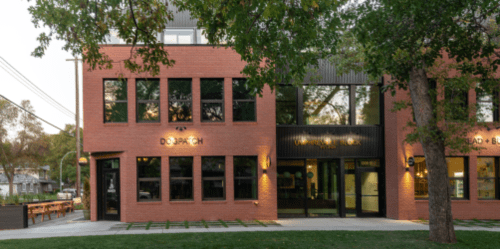 A successful business owner for many years, Jay watched as profitable enterprises dried up overnight.
"I'm involved in a bunch of businesses and they [were] all simultaneously on fire," Jay said.
His hockey fan sites, Oilersnation, Flamesnation and the Nation Network — a total of 15 sports sites with 5.5 million monthly visitors? Advertising revenues dropped 90 per cent.
Little Brick, his beloved coffee shop and cafe in a little historic house in Riverdale? Shut down until further notice. The restaurant franchises he helped build as president of Oodle Noodle's franchise operations were in similar straits, struggling to get by on delivery alone.
And of course, there was the hole in the ground, waiting. The future Edmonton headquarters for all of those businesses, plus a bakery, a bistro and two bed and breakfast suites.
"Construction during COVID was really stressful. There was a dark time where we were pivoting what was going into [the building] while it was being constructed," Jay said.
In partnership with Jay, the team at Servus helped River Valley Company through the roughest times. At first, they called to arrange a loan deferral on the commercial mortgage for Little Brick, which freed up cashflow to weather several lockdowns.
"They called and offered it to us before we even thought of it as an option," Jay said. "It gave us a lot of air and room to breathe."
Even better was the sense of shared purpose to make River Valley Company successful. Jay bounced new revenue ideas off his banking team as he saw his way through countless pivots, opening a coffee subscription through Little Brick and starting an Instagram account long before opening to generate buzz for the new bistro.
"I was calling them with the craziest ideas during COVID and it was nice to have that sounding board."
Although being an entrepreneur hasn't always been quite as daunting as it has over the last 18 months, Jay took a winding path to his current career. As a finance grad from NAIT, he went into banking — the traditional path, he says — and used it as a crash MBA on how to run a business.
Once he got an understanding of himself as an entrepreneur, he teamed up with business partner Clark Murray to start Oilersnation. While the new business picked up steam, he turned his attention to franchise financing at his day job in banking.
Today, not only does he still play a major role in Nation Network as CEO, but he's partnered with the second generation of Oodle Noodle to expand their restaurants as franchises in Edmonton and beyond. There are 14 restaurants open now, with more to come in both Edmonton and Calgary.
Whether it's noodles, hockey or coffee, it all comes back to making Edmonton a better place, creating jobs here and developing the river valley as a destination for locals and tourists alike.
"Our passion has always been Edmonton," Jay said. "And doing things in Edmonton."
Dogpatch Bistro and Bread + Butter Bakery are now open in the new Umphreville Block in Riverdale, under the management of co-owner Carmen Winkler of River Valley Hospitality, River Valley Company.
Book an appointment
with a Servus Credit Union business financing specialist and get started on your business dreams.