Throughout 2020 we've all adjusted and adapted to new ways of doing our regular activities, including shopping. This holiday season will be a bit different, but some things, such as creating (and sticking to) a spending budget, are likely to stay the same. You may have a holiday budget in mind already, but have you planned what method of payment you'll use? You might typically shop on autopilot – using the same debit or credit card, or maybe you stick to cash. So is how you pay something worth considering? Yes – especially this year!
While you're focused on giving to others, why not give back to yourself? Here are a few ways you can make planning your payments pay off.
Ditch the wallet, go contactless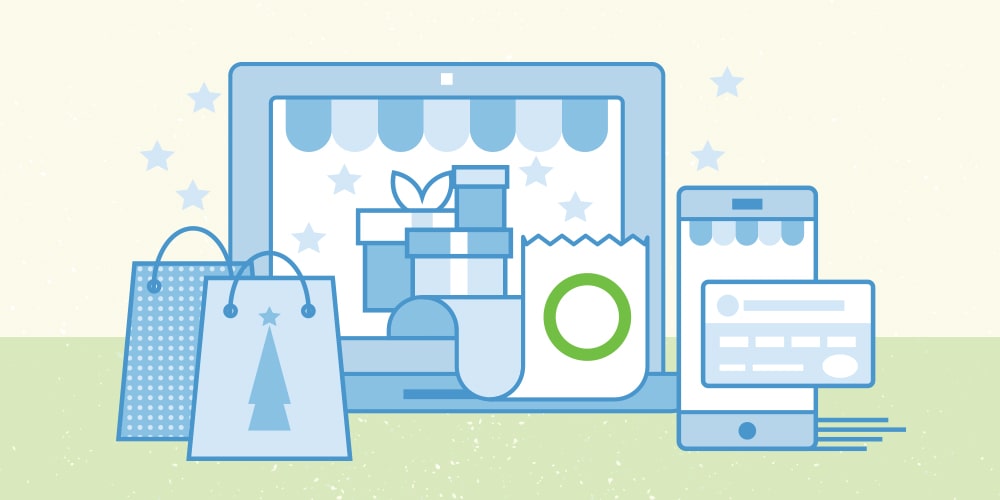 Focusing hygiene and cleanliness will carry through the holiday season as a top priority for everyone. Some retailers have already gone cashless as a result.
Going cashless by pairing your Servus Member card® or Servus Mastercard with Apple Pay®, Samsung Pay or Google Pay means you'll have the convenience of paying with your digital device. You'll be able to instantly see each transaction made, which allows you to keep a close eye on your budget. This year, significantly more retailers are accepting digital payments in store, online or within their apps. Using your phone or smart watch means not only will you have one less thing to juggle, you'll also avoid needing to touch PIN pads for a safer shopping experience.
Shop securely from home
While we might expect the COVID-19 pandemic to affect how we all shop this year, data from PwC Canada's 2020 Canadian holiday outlook shows 59% of respondents overall still plan to shop in-store, with 78% saying they plan to do so in stores where "…I can see measures in place to ensure the health and safety of shoppers". That leaves 41% who plan to shop via their computer, tablet, smartphone or smart home device. The option of curbside pickup has become increasingly popular this year and is sure to be the preference for many people over the next couple months.
If you're planning to buy online (whether you're having it delivered or picking up curbside), you might want to be choosy with the credit card you use. Consider paying with a card that has purchase insurance*, which protects eligible purchases for 90 days against loss, theft or damage anywhere in the world.
Don't miss out on rewards
Love watching the dollars you spend turn into points you've earned? This can get exciting during the holidays when your spending tends to increase. Choosing to pay with a credit card that offers rewards means those points really add up. If that credit card is a Servus Mastercard® you'll earn Servus Circle Rewards® on your purchases that can be redeemed for merchandise (more gifts to give), money toward your card balance (pay off the holidays sooner), or even as investments (leverage holiday spending towards your future). Maximize your rewards - you've earned it!
No matter what your holiday budget is, or how your shopping plans have changed this year, planning how you'll pay has its benefits!
® Servus Credit Union, Servus, Servus Circle Rewards and all associated marks are trademarks of Servus Credit Union Ltd.
® Member Card is a registered certification mark owned by Canadian Credit Union Association, used under license.
® Apple Pay is a trademark of Apple Inc.
* All features subject to the terms and conditions outlined in the cardholder documents.
Originally posted on November 2, 2018.