The largest transfer of wealth in history is coming hard and fast – with trillions of dollars expected to be passed from baby boomer parents to their children over the next 10 to 20 years in North America.
The topic is generating a lot of interest, in media and especially in conversations between wealth advisors and their clients.
There is reason to believe this transfer won't be one big windfall for the children or grandchildren of boomers. Boomers who may have lived conservatively their whole lives now have more of a mindset of pursuing their passions and enjoying their lives. They spend more on consumer goods, start their own companies, give money to charity and travel more. Making up 29% of the Canadian population and being outpaced only by Generation Y or millennials, they have massive spending power – as do the millennials.
In her experience with boomers, Sandy Meunier, Investment Advisor with Credential Securities at Servus, has found they have been savers and will continue to manage their money going forward. When divesting their investments, though, they worry about the tax hit. Cost of living and the impact of inflation are common concerns, as are unexpected downturns in the market. Life expectancy is an issue, too: People are living longer than ever, but many still don't know how much money to put away for things like healthcare and long-term care costs as they age.
Many boomers are helping out their kids and grandkids now – it could be a down payment on a house or it could be cashing out something like a GIC on maturity, as opposed to reinvesting it, and then dividing it among their kids. They might set up a trust to put some conditions on how the inheritance is spent.
"They get to see their kids and grandkids enjoy it," Sandy says. "Boomers want to make sure their heirs are in the 'black' financially, after they pass on."
There are no hard rules as to how the wealth transfer will play out. Issues can crop up, such as outdated wills, a family conflict, pending sale of properties, or money being spread out over too many financial institutions. So, when the wealthiest generation in history considers how best to transfer its assets, planning becomes very important.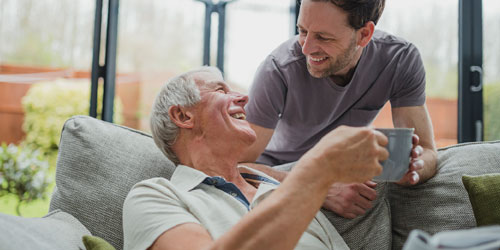 "I tell all my members not to bet on anything," Sandy says. "Not even on something like the Canada Pension Plan. Pay themselves first is what I say. There are just so many factors that can chip away at an inheritance. Who knows when they will get it, and what the value will be after something like inflation?"
Her younger clients want to help their children out as well, but they also want their investment strategy to ensure they are ready for retirement. As the upcoming wealth transfer plays out, the massive millennial generation is seeking the advice of wealth advisors to help them plan their financial futures, too.
The bottom line is navigating a wealth strategy will become more crucial in the years ahead for all generations.
Our wealth advisors work with you to create your personal financial plan. For more information about how to access our wealth services, we encourage you to visit your local branch or call us at 1.877.378.8728.