Spring break is coming, and for many Albertans, that means it's time to book a family vacation. While rest, relaxation, entertainment and fun may be on your agenda, not all trips go 100% as planned.
Here's an example. Stacey and her husband booked a trip with another couple to New York City. Being only twenty-something, they figured travel insurance was for older people, those who are more prone to getting sick or injured. Wanting to spend the extra $150 on dining out, they decided to take a chance and skip on insurance. After all, there are lots of reasons for turning down travel insurance.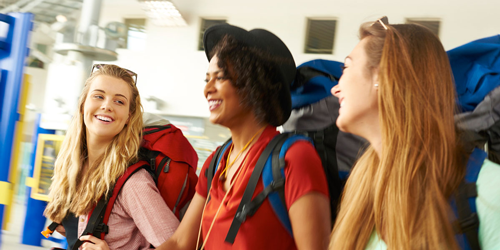 But when Stacey's husband tripped and broke his ankle while walking in Central Park, the stress of not having insurance quickly kicked in. He needed emergency surgery and had to stay in a New York hospital for three days. On top of worrying about his recovery, Stacey had to deal with the medical bills and getting him home.
Can you afford not to?
Like Stacey and her husband, travellers often don't get insurance because they think they're adequately covered by their credit card. But consider how much it could cost if you were to have an accident or become sick and need treatment: a hospital stay in the United States costs about US$8,500 a day! In Canada, it costs about $3,000 a day, and provincial health care doesn't cover many out-of-province medical expenses. In a situation like Stacey and her husband's, those bills would add up to about $47,000!
So ask yourself, "Can I afford not to get travel insurance for my next trip?" And before you decide what kind of travel insurance to choose, consider these tips:
Find out if you already have coverage somewhere else. The typical places to check are with your employer, through your credit card or through your financial institution.
Keep in mind that there may be limitations on your coverage through these other sources. For example, the length of your trip or certain types of activities—like sky diving!—might limit your insurance. You may need to add coverage for these things before going on your dream vacation.
Servus Credit Union can help you with all your travel insurance needs, as well as things like picking up currency for your destination. We make buying travel insurance easy through the CUMIS Travel Insurance progam for Servus members. You can buy a policy online in 5 minutes, stop by a branch or give us a call at 1.877.378.8728.