October 18 is the 70th annual International Credit Union Day, and Servus branches across our province will be marking the milestone in various ways including member appreciation events, barbeques, special promotions and more.
During the week of October 15-19, stop by your local branch for some treats and, if you book a financial review (aka Find your 50) before November 30, you'll receive $50 at your appointment!
Established in 1948 by the World Council of Credit Unions (WOCCU), Credit Union Day is a day to reflect on the history of the credit union movement and to promote its achievements. It's an opportunity to reaffirm our shared commitments of investing in the communities we serve and engaging and empowering members.
Festivities aren't just happening here in Alberta. There will be Credit Union Day celebrations happening throughout Canada and around the globe. According to the WOCCU, Canada has the highest per capita credit union membership in North America with more than a third of our country's population having membership with at least one credit union. That's a great reason to celebrate!
Credit Union Day is also an acknowledgment of what makes credit unions unique. Of the seven principles that define what it means to be a financial cooperative, we emphasize concern for the community. We live and work in the communities we support, and we want to make a difference.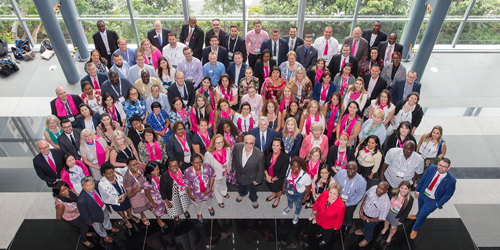 This past July, our President and CEO, Garth Warner, attended the WOCCU's World Credit Union Conference in Singapore, where Servus proudly contributed to a fundraising effort in support of the Busia Compassionate Centre for orphans in Busia, Kenya. This contribution elevated our commitment to building resilient and prosperous communities to an international scale. We'll toast to that!
Fun fact – as you partake in any of the Credit Union day activities happening across Alberta you'll be celebrating along with 235 million members in 109 countries around the world!
For information about Credit Union Day celebrations happening in your area, contact your local Servus branch or visit our events calendar.
Source: http://www.woccu.org/events_and_engagement/icuday/icuday_history