Stars. Dinosaurs. 3-D printed cars. You can explore these topics and more at the TELUS World of Science—Edmonton (TWOSE). This centre is a non-profit organization designed to inspire people to learn about and become involved in science and technology.
Servus has been a supporter of TWOSE for many years. This year, we're donating $100,000 to a renovation project at the centre. There'll be new space for health, engineering and innovation exhibits and updates to the Zeidler Star and IMAX Theatres, among other changes.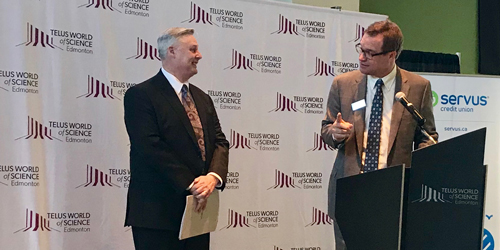 Our donation is part of our drive to help people enjoy some of the best things to see and do across Alberta. We're proud to support a project that will offer Albertans more science and technology experiences at one of Edmonton's largest attractions.
To learn more about TWOSE, visit www.telusworldofscienceedmonton.ca.
And come see the stars, dinosaurs and 3-D printed cars!