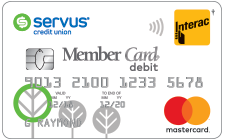 Getting your money should be easy. A Servus Credit Union Member Card® is linked directly to your account so you can pay cash without carrying cash. It's a convenient and secure way to access your money.
Your Member Card is a Debit Mastercard®. It combines the benefits of Interac® and Mastercard, making it easier than ever to use your Member Card at home and while travelling. When you make a purchase, the funds come directly from your Servus account.
Use it as a debit card to:
Make an in-store purchase in Canada
Access your accounts through an ATM
Use it like a Mastercard to:
Shop online with select Canadian merchants that accept Debit Mastercard
Shop online with all international merchants
Make an in-store purchase outside of Canada, anywhere Mastercard is accepted
Make reservations for hotels, rental cars and other services. Note: holds may be placed on some or all of those funds, so confirm you have the money in your account.
Although it's not a credit card, take comfort in knowing your new Member Card has the acceptance of Mastercard worldwide.
Your card has Interac Flash®: you'll see this symbol on your card.

Interac Flash allows you to make everyday purchases quickly and easily with just a tap of your card at merchants displaying the Interac Flash symbol.
Read our Servus Member Card® FAQs or Interac Flash FAQs for more information.
You can also access your money worldwide* wherever you see the Cirrus® and Interac logos.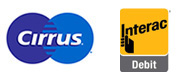 * Refer to your Member Card and PIN agreement for more information about foreign transactions and fees.
® Member Card is a registered trademark of Credit Union Central of Canada.
® Cirrus is a registered trademark owned by Cirrus Systems Inc. and is used under licence.
® INTERAC is a registered trademark owned by Interac Inc. and is used under licence.