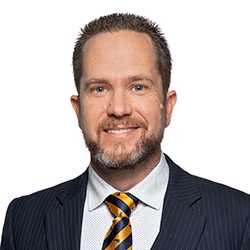 Meet Jon Holt, a director first elected in 2008, who brings his knowledge of IT governance, policy and strategic planning to the Servus board.
Jon is a serial entrepreneur, and currently holds the position of CIO with one of the companies he helped found. He spends his days managing the tension between building beautiful, seamless, online services, and guarding the information security of the various customers who use the those services.
Jon holds an Accredited Canadian Credit Union Director designation from CUIC and Dalhousie University, has a bachelor of arts (with distinction) from the University of Alberta, an Enterprise Architect accreditation from the Open Group, a certificate in Future Commerce (FinTech) from MIT, and a certificate of Product Management from UC Berkeley.
He has been involved with Toastmasters, Junior Achievement, the United Way's Corporate Challenge and the Multiple Sclerosis Society of Canada's MS Bike Tour. He's also a long course triathlete with 3 Ironman Canada finishes.
Jon lives in Okotoks with his wife and two children.