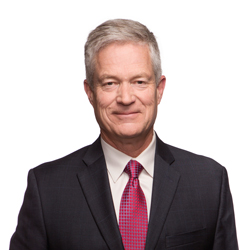 John Lamb, who was elected to our board in 2013, has been a long-time credit union and co-operative supporter. From 1986 to 2007, he was a director on three and the chair of two boards of Servus's legacy credit unions. These include Firefighters Credit Union, Emergency Services Credit Union and Common Wealth Credit Union. He also served several terms on the Boards of Directors of Credit Union Central of Alberta, The Cooperators Insurance Company and the Alberta Community and Co-operative Association.
John is proud of his contributions to Servus's growth as an organization that truly cares about its member-owners. He's passionate about credit union values, specifically three focus areas: continuously improving member benefits and service; building a strong, viable and financially stable organization; and supporting Servus's dedicated staff.
After proudly serving his community for over 34 years as Deputy Fire Chief with the City of Edmonton Fire Department, John retired in 2014 and continues to live in Edmonton with his family.
John presently serves as Board Chair of Servus Credit Union.